For most people, flying is a relaxing and enjoyable experience. But for flight attendants, it can be a long and tiring day at work. Here are some tips to help them stay fresh during those long flights! Follow these simple tricks, and you'll look great when you land.
Invest in a good skincare routine
Investing in a good skincare routine can make all the difference in minimizing the effects of jet lag and staying energized. Cleansing your skin regularly with a gentle cleanser helps to remove dirt, oil, and makeup that have built up over time. Follow up with toning, which can help balance your skin's pH levels while also removing any residual cosmetics or impurities.
Lastly, finish your morning skincare routine with a lightweight moisturizer suitable for all skin types. This will help keep your skin hydrated through harsh conditions such as cabin air and low humidity. Spending just a few minutes each morning on proper cleansing, toning, and moisturizing will give you the confidence to look fresh throughout the day!
Wear minimal makeup
The air travel industry takes on long-distance journeys daily, often with flights lasting several hours. Flight attendants must maintain a professional appearance for the entire duration of each flight. To keep looking fresh, one recommended tip is to wear minimal makeup. Depending on the season and climate onboard, it is best to use makeup formulated for long-lasting wear, such as matte foundations and setting sprays.
Applying too much primer, foundation or powder may cause a cakey finish that is difficult to remove without reapplying, so start with a light base instead – which will help keep your skin from becoming dry and flaky. You can opt for permanent makeup to last even longer and create a natural look that is easy to maintain throughout the flight.
You can quickly achieve a minimal look by emphasizing small details such as eyeliner and subtle highlighter rather than caking on layers of foundation. Give your skin enough time to freshen up between flights, which helps keep a natural yet polished look that passengers find refreshing in the air.
Put your hair up in a bun or ponytail.
A flight attendant's polished professional appearance is key to success. Long shifts can make it difficult to stay looking fresh, but with a few tips and tricks, you can maintain your impeccable style throughout your day and shift. One of the most effective tips for keeping appearances is putting your hair up off your face.
Whether you prefer a bun or ponytail, having the bulk of your hair away from your face will keep it out of the way when doing tasks such as stocking the pantry and add an air of sophistication to any look. Keeping your hair off your face also has practical advantages by promoting airflow, which will, in turn, keep you feeling cool even during long days.
Drink plenty of water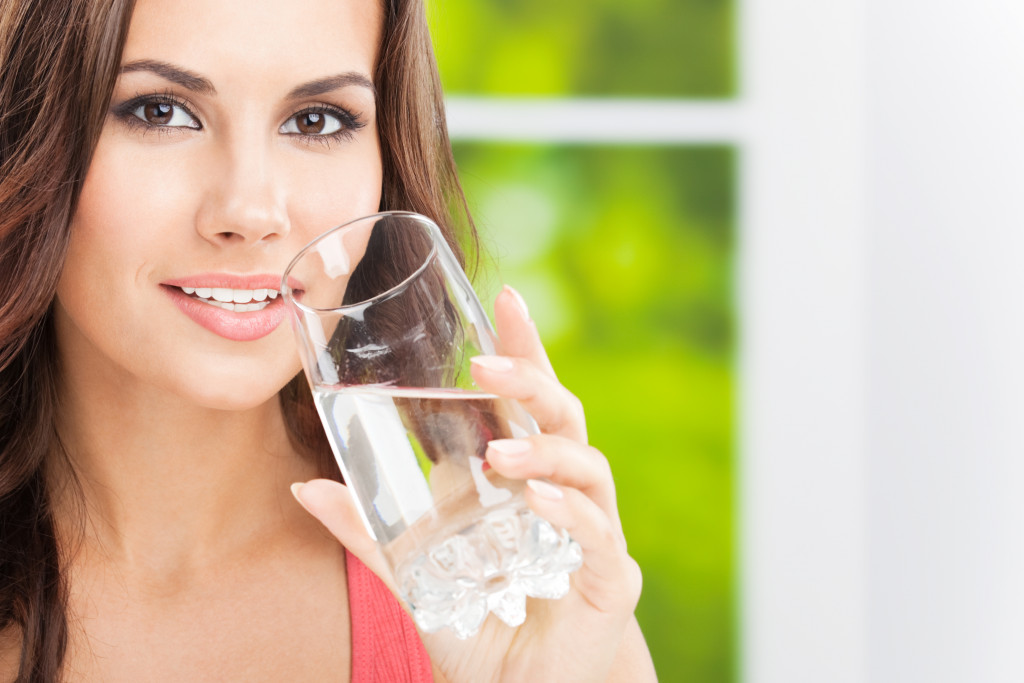 Flight attendants are in a unique position when it comes to retaining their appearance during long flights. Staying hydrated is one of the best ways to guarantee a fresh and glowing look throughout your shift. Drinking plenty of water prevents dehydration-related skin issues, such as dryness, inflammation, and an even complexion. Try to drink at least two liters per day. Additionally, wear breathable fabrics and loose-fitting clothing to keep comfort levels high.
Keep some facial wipes handy for a quick refreshment, or wear minimal makeup to reduce skin irritation or clogging of pores over time. You can also bring along eye creams and other essential skincare items to soothe the effects of air travel on your delicate skin. Working long shifts no longer needs to mean looking dull and tired – minimize your stress with a few simple measures!
Avoid caffeine and alcohol.
One of the essential tips for looking well-rested is to avoid caffeine and alcohol, which can have a dehydrating effect on the body. It is vital to keep hydrated with plenty of water to maintain the appearance of healthy, glowing skin even after hours in the air. To achieve this, it is recommended to drink at least eight glasses of water or sports drinks daily, especially when taking long-haul flights.
It is also beneficial to exercise as you travel by stretching or going for short walks up and down the aisle. By taking these simple yet effective steps, flight attendants can easily maintain their alertness and appearance throughout their journey.
Get up and walk around the cabin.
Flight attendants know that long flight periods can take a toll on your skin and overall well-being. One of the simplest yet most effective strategies is to get up and walk around the cabin every few hours to keep looking fresh during these flights.
Not only does this active practice encourage blood flow throughout the body, but it can help maintain a healthy circulation system while keeping you focused, and alert and alerting your mind to stay awake. It's also important to take regular breaks, drink plenty of water and limit caffeine intake – all beneficial practices for flight attendants looking to stay fresh during their duty hours.
Long flights can be tough on your appearance, but following these simple tips can help you stay fresh and look your best. A good skincare routine is essential, as is drinking plenty of water and getting up to move around every few hours. And remember to keep it minimal with your makeup – less is more! With just a little effort, you can avoid that "tired flyer" look and feel great when you land.