Let's face it: most people don't like going to the dentist. They do it because they have to. But what if you made an effort to improve your patients' experience at your dental office?
Providing quality service, affordable prices, and a strategic location may not be enough to make your patients feel that they've truly enjoyed their experience with you. If you want to give your patients the best care possible, it's time to step up and find ways on how to improve their patient experience. Here are some tips:
1. Upgrade Your Equipment
Even if you provide the best service possible, your patients won't get the care they deserve if your equipment is too outdated to perform to today's standards. Take a look around your office and see if there is any equipment that needs to be replaced, including computers and other electronics aside from dental equipment. Consider replacing outdated models with newer ones, and look into more modern alternatives like digital orthodontics and state-of-the-art dental tools.
2. Update Your Waiting Room
Sometimes, long waiting times can't be avoided. Make the patient experience more bearable–and maybe even fun–by updating your waiting room with more comfortable furniture, entertainment sources, and complimentary goodies.
3. Streamline the Intake Process
Patients may feel annoyed the moment they walk into your office because they have to wait in line just to check-in at the front desk. To avoid this nuisance, place an electronic check-in kiosk in the front room where patients can update their information, set an appointment, and pay their bill quickly and easily.
4. Offer Online Booking
If your practice doesn't have an online booking option yet, consider adding one to your website to attract new patients and make it more convenient for your current ones. Allow the options to book, reschedule, and cancel an appointment online. In addition, send notifications to your patients so that they don't forget about their appointment, especially for routine dental treatments that are months or years apart.
5. Listen to Their Feedback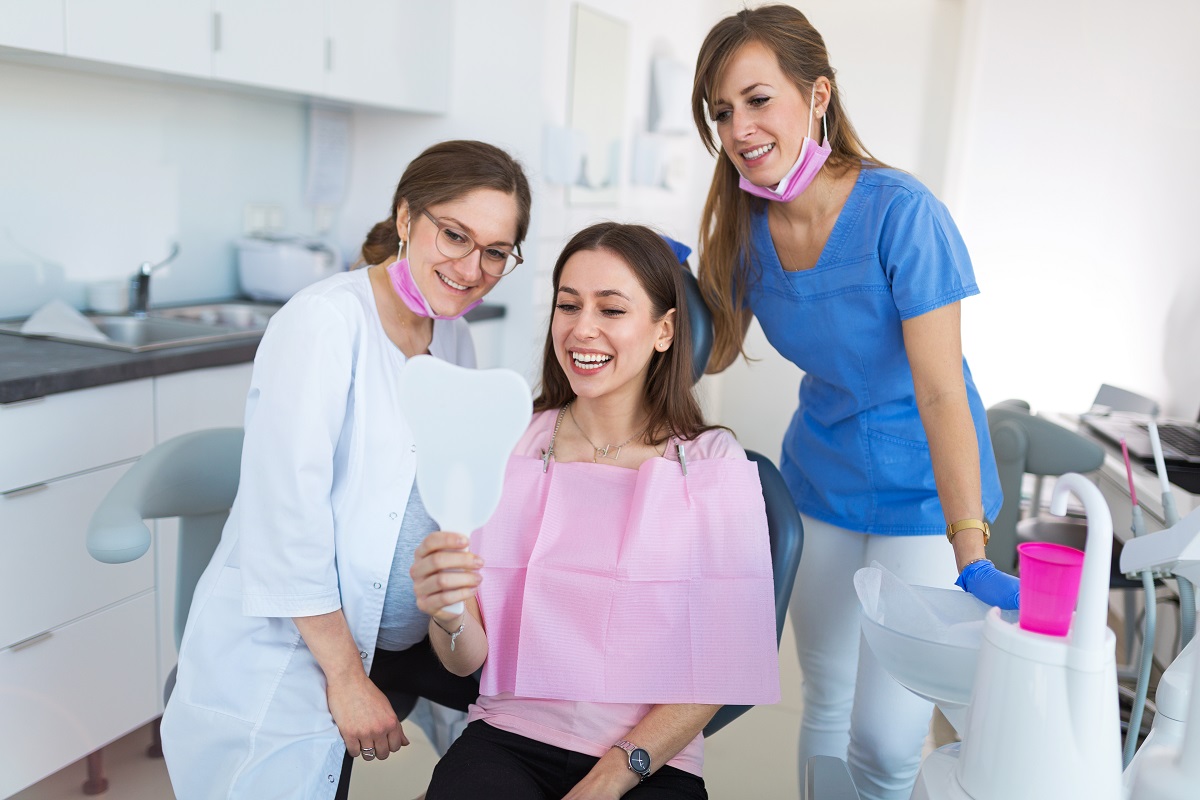 Just with any business, clients are happier if their opinions are heard. Set up a suggestion or feedback box in your waiting room to hear what your clients have to say. Alternatively, have them rate your practice through text or email, whichever is easier for you and your client.
6. Ease Dental Anxiety
A lot of people don't enjoy going to the dentist. But for some, a dental appointment can be outright scary.
To ease dental anxiety and fear in your patients, create a relaxing environment both in your waiting room and your exam room. Buy comfortable furniture, play relaxing music, remove scary dental displays, and offer support services for debilitating cases of anxiety.
7. Retrain Your Staff
One of the most significant aspects that can affect the patient experience is your staff. Are they kind and respectful when dealing with patients? Do they make sure that all patient needs are met? If your staff needs retraining in customer service, set up one or two seminars to refresh their skills.
A dental appointment is usually not enjoyable, but you can break that notion by enhancing the patient experience in your dental practice. If you want your customers to walk out with both a beautiful and genuine smile, start improving your dental practice's patient experience with these tips.