A few more weeks to go and you're off to your winter holiday. If skiing is part of your itinerary and you've never done it before, then planning your skiing wardrobe is an important task that shouldn't be overlooked. Winter weather, especially at high altitudes can be harsh, so you need to protect your body properly from the biting cold. For your lower body, you should wear a pair of ski pants, instead of your regular jeans or trousers, to keep your legs warm and dry. Here are some points to keep in mind when choosing a new pair of ski pants.
Types of Ski Pants
Insulated Ski Pants
Insulated ski pants provide warmth and protection. The inner, insulated layer is made from of synthetic material while the outer layer is waterproof. Insulated ski pants vary in terms of insulation levels or weights, measured in grams. A higher insulation weight means that the ski pants can provide you with more warmth.
Shell Ski Pants
Shell Ski Pants are the lightest type, offering maximum mobility. They also offer better protection against the elements as shell ski pants are usually made from windproof, waterproof, and highly breathable materials. However, shell ski pants have no insulation so it is recommended that you wear a pair of base layer pants with them.
3-in-1 Ski Pants
Another type of ski pants that is becoming more popular among skiers and snowboarders are 3-in-1 ski pants. They combine the features of insulated and shell ski pants where they have waterproof and weatherproof outer layer and an insulated inner layer. As the term suggests, 3-in-1 ski pants can be worn in three different ways, meaning, either the inner and outer layer can be worn as a stand-alone garment or zipped together to provide more powerful protection against the cold.
Key Features and Composition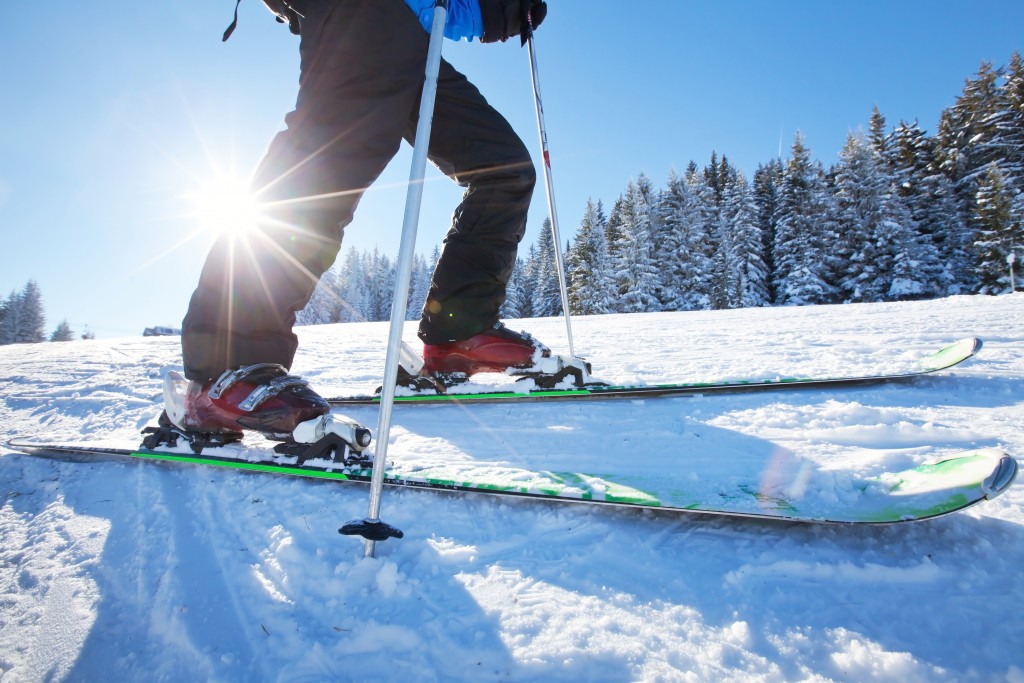 Leg Zips
Leg zips allow breathability when you need to cool down or when the weather warms up. They are located at the inner or outer part of the ski pants' thighs and can be zipped partially or fully open for adjustable ventilation and temperature regulation. Other ski pants styles have full legs zips that let you remove the ski pants without taking off your ski boots.
Ankle Gaiters
Gaiters seal around your ski boots to prevent snow and dampness from going inside your pant legs. Some styles have hooks, straps and buckles that you can attach to your ski boots for increased security.
Shoulder Braces
Shoulder braces are similar to the suspenders used in regular trousers. They prevent your ski pants from sliding down, especially when you're engaging in high activity. Shoulder braces are usually detachable but there are also some ski pants styles that have braces attached to the waist.
Kick Patches
Kick patches are fitted at the ankles of the ski pants. They protect the bottom of the cuffs from abrasion caused by repeated impact against your skis, boots or debris.
Articulated Knee Darts
Adding articulated knee darts in your ski pants' design provides full mobility on the knee area that can be otherwise hindered by tight clothing.
With this guide, choosing the ski pants to buy will be less difficult. A good pair of ski pants shouldn't just make you look fashionable, but more importantly, it should be able to make your life on the slopes more comfortable.