If you're anything like most people, your Instagram feed is probably filled with beautiful pictures of far-off places and breathtaking landscapes. But what about the people you share those memories with? The ones who make travel even more special? Here are a few ideas for couples photos that will get those likes rolling in.
The "I'm So Lucky To Be Here With You" Shot
We've all seen it before—the couple standing in front of a gorgeous sunset, looking longingly into each other's eyes with the caption "I'm so lucky to be here with you." And while it may be a little cheesy, there's no denying that this photo is super romantic. If you want to take your own version of this classic, simply find a spot with a killer view and get snapping. Extra points if you can get the golden hour light just right.
The "We Belong Together" Shot
This one is all about showing off your adventurous side. Find a place where you can both get up high—a cliff edge, the top of a mountain, or even just a really tall building—and capture the feeling of being on top of the world together. This shot will look amazing and show off your sense of adventure (bonus points if you can make it look effortless). Again, the golden hour light will make this picture pop, but don't be afraid to experiment with different lighting conditions to see what works best.
The "Having The Time Of Our Lives" Shot
To make your photos look like you're having the time of your lives, start by making sure you're actually enjoying yourselves. If you're not, it will be difficult to fake it in front of the camera. Once you've got that down, try smiling genuinely and making eye contact with the lens. If you're still having trouble, try thinking of something that makes you and your partner happy, or try laughing out loud — even if it's just in your head
And finally, don't take yourselves too seriously — have fun with it and let your personalities and love shine through. With a bit of practice, you'll be telling the world that you're having the time of your lives through the photos you post on Instagram.
The "Pretending To Be Tourists" Shot
This one is great for getting some laughs (and maybe even a few free souvenirs). Dress up in traditional clothes from your destination, grab some props (think: fake cameras, maps, and Binoculars), and strike a pose as if you're waiting for somebody to take your picture. Then, once you've got the perfect shot, switch things up and have your partner take a photo of you pretending to be tourists together. Hilarious and adorable? We think so.
The "Love Me Love My Dog" Shot
For all the fellow dog lovers out there, this one is for you! If you're traveling with your furry friend, lucky you! This is the perfect opportunity to capture both of your loves in one frame. After all, there's nothing cuter than puppies. Whether you're at the beach, in the park, or just taking a stroll down the street, include your pup in as many photos as possible.
The "Matchy Matchy" Shot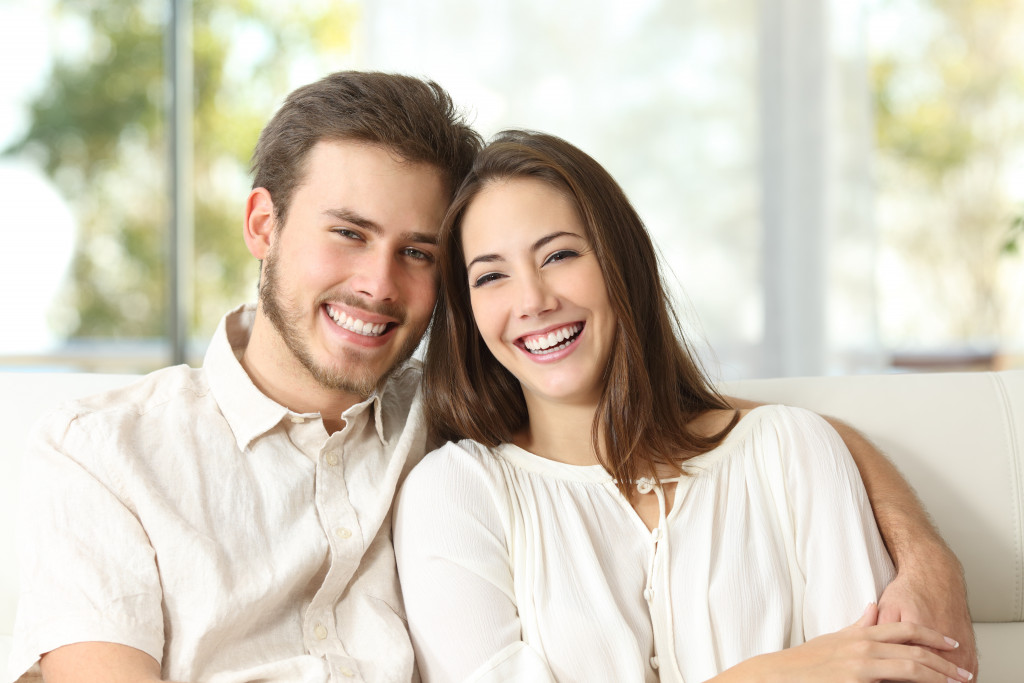 One of the best ways to ensure you get some great pictures when traveling with your partner is to have matching outfits. Now, this doesn't mean you have to wear the same thing every day of your trip. But, having a few coordinated looks will ensure that you look like a cohesive unit in your photos. Plus, putting together some matching outfits with your favorite travel buddy will be fun!
You can pick outfits by color (think: a white tee and denim shorts for him, and a flowy white dress for her) or by theme (like nautical stripes for a beach vacation). If you want your outfits to really match, you can send your t-shirts to a t-shirt screen printing shop and get them printed with the same design. Examples of designs you could have are your initials, the word Soulmates, or even just a heart. The options are endless, but the results will always look cute. Wearing screen-printed t-shirts is a great way to show off your love for each other in the photos.
So, next time you're packing for a trip, pack a few coordinating items for you and your partner. Then, strike a pose and enjoy the memories (and the likes) that come along with them.
There's no doubt that traveling with your significant other can be one of the most magical experiences life has to offer. So next time you're jetting off on an adventure together, make sure to capture some couples photos that'll not only make everyone back home jealous but will also serve as cherished memories for years to come.