Anyone that's on vacation wants to look their best. After all, you never know who you might run into while you're out and about exploring a new destination. But maintaining a solid grooming routine can be tricky when you're constantly on the go.
Don't let your grooming routine be one of the things that fall by the wayside while you're traveling. Use these hacks to ensure you always look your best, no matter where your vacation takes you.
Invest in a functional toiletry bag
A toiletry bag is essential for keeping your grooming products organized while traveling. Look for one with multiple compartments so you can easily find what you need, and make sure it's spacious enough to fit everything you need to bring.
Your toiletry bag should have travel-sized versions of all your essential grooming products, including shampoo, conditioner, soap, body lotion, face wash, and sunscreen. Properly storing these items in a toiletry bag will help them last longer and prevent spillage or leaks.
And with airport restrictions on liquids, gels, and creams, a toiletry bag will help you stay compliant while still being able to bring everything you need. This way, you can focus on enjoying your vacation instead of worrying about whether you packed everything.
Don't forget the basics
Just because you're on vacation doesn't mean you can skimp on the basics of grooming. Make sure you brush your teeth, floss, and use mouthwash to keep your breath fresh. These simple steps will go a long way to ensure you always look and feel your best.
It's also important to stay hydrated while traveling, especially if you're on a long-haul trip. Drink plenty of water throughout the day to keep your skin looking its best. And if you're spending time outdoors, don't forget to apply sunscreen.
Many people fail to realize the importance of these basic grooming steps while traveling, but they can make all the difference in how you look and feel.
Pack versatile clothing
When packing for your vacation, choose clothes you can easily dress up or down. In doing so, you'll have more outfit options and won't have to pack as much. Bring a few versatile items, such as a denim jacket, a white button-down shirt, or black jeans. These items can fit any occasion, and they'll work well with the rest of your wardrobe.
With versatile clothing, you can easily transition from daytime exploring to nighttime dining and dancing without having to change your entire outfit. Besides, no one wants to spend their vacation doing laundry, so pack accordingly.
Keep your hair trimmed
If you're traveling for an extended period, it's essential to keep your hair trimmed. Doing so will help you avoid split ends and keep your hair looking its best. And when you have neatly trimmed hair, you'll look more polished and put-together, even if the rest of your outfit is casual.
Of course, a trip to the salon while traveling is not always possible or convenient. In this case, invest in a quality pair of hair scissors so you can do touch-ups as needed. It will help you keep your hair looking its best until you can get to a salon.
You can also take your hair game to the next level by bringing some styling products. Moringa herbal therapy oil for hair is your go-to for maintaining healthy hair while on the road. Not only does it protect your strands from heat damage, but it also contains vitamins and nutrients that will keep your hair looking its best.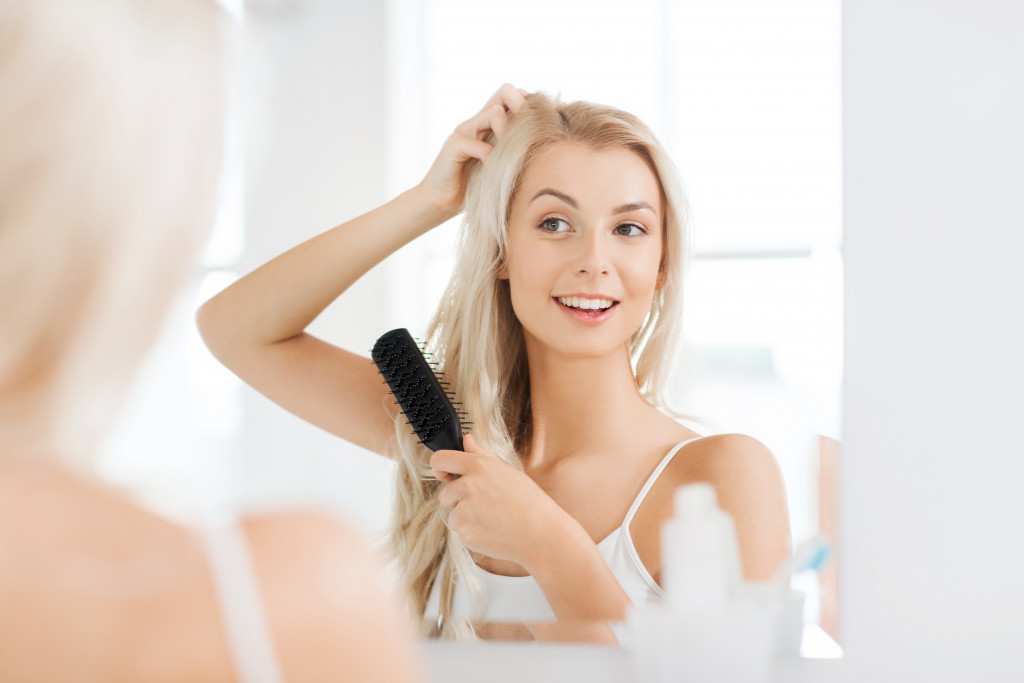 Don't neglect your skincare routine
Maintaining a skincare routine while traveling is essential, even if you're not wearing makeup. It will help your skin recover from the stress of travel and protect it from the elements.
Make sure you pack a gentle cleanser, toner, moisturizer, and sunscreen. These four products will help you keep your skin looking healthy and radiant, no matter where your vacation takes you.
It would help if you also considered packing some skincare essentials, such as a facial mist, lip balm, and hand cream. These products will come in handy when your skin feels dry or irritated. And they'll help you look refreshed and put-together, even if you haven't had time for a shower.
When you're traveling, it's crucial to maintain your grooming routine. It will help you look and feel your best while on vacation. The above tips will help you do just that. So, get packing and make the most of your trip. With some planning, you can look good and feel great, even while on the go.