One of the common misconceptions about immunisation is thinking that it is only available for children. Everyone should understand that the vaccines that they have during their childhood will lose their effect over the years.
As an adult, you need to realise that your body is more susceptible to various diseases because of ageing, lifestyle, travel, job and health conditions. Every adult should get immunised to prevent or minimise acquiring and spreading diseases.
While some immunisation must be taken once a year as the seasonal flu vaccine, some vaccines are recommended for a specific age range, such as follows. These vaccines are kept in safe storage inside specialised vaccine fridges for easy access in case of emergencies.
Vaccines for 50 Years and Older
One of the studies found out that one out of 3 adults in the U. S. has the chance to develop Shingles in their lifetime. This risk is getting higher as the person grows older. The same study also showed that more than 60% of seasonal flu-related causes in the country happen on people who are 65 years and older.
When a person is getting older, his immune systems may deteriorate or weaken over time. While this is happening, his risk for various diseases is getting higher. With this reason, a person aged 50 years or older should get the following vaccines:
Singles vaccines – this vaccine will protect an ageing person from developing shingles and other complications related to the disease. This is recommended for healthy adults ageing 50 years and older.
 Pneumococcal polysaccharide vaccine or PPSV23 – this vaccine can protect an ageing person from severe pneumococcal diseases such as bloodstream infections and meningitis. This is recommended for all adults ageing 65 years and older and for those adults who are younger than 65 years and have certain health conditions.
Pneumococcal conjugate vaccine or PCV13 – this vaccine protects an ageing person from pneumonia and severe pneumococcal disease. This is recommended for adults who have a weak immune system, cochlear implant, or cerebrospinal fluid leak.
To know what are the most recommended vaccines for your age, it is best to talk to your doctor during your next medical appointment.
Vaccines for Adults with Certain Health Conditions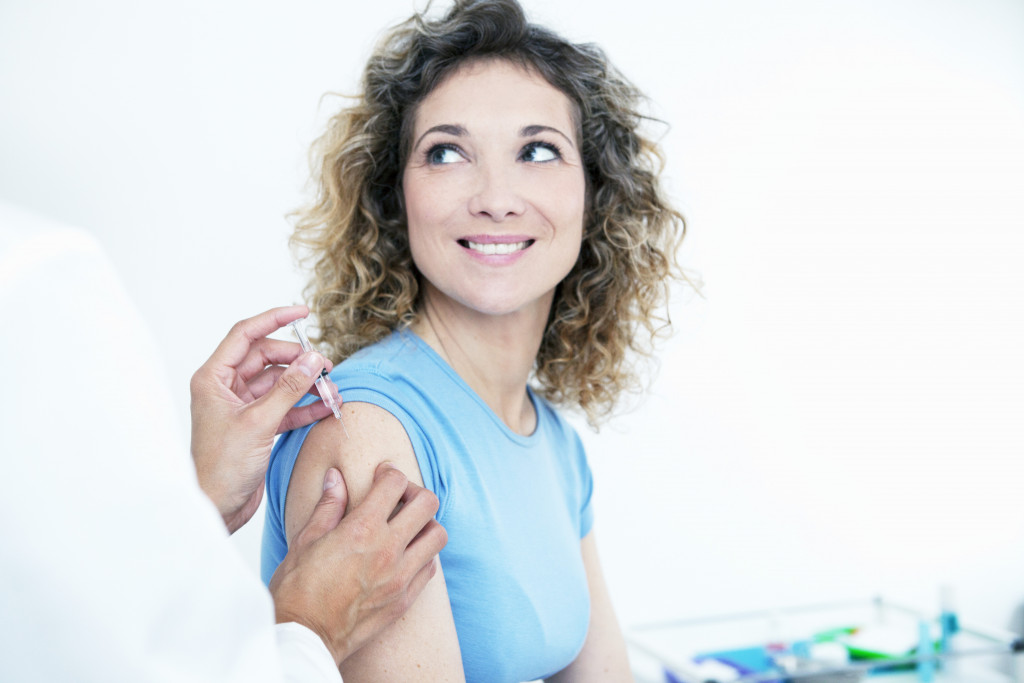 Every adult will be required to have the seasonal flu (influenza vaccine and Td or Tdap vaccine, which is for Tetanus, diphtheria and pertussis. But for those adults who have certain medical conditions, they will need additional vaccines to boost their protection from various serious diseases.
Below are the health conditions that will need other vaccines.
Asplenia
Diabetes Type 1 and Type 2
Heart Disease, Stroke, or Other Cardiovascular Disease
HIV Infection
Liver Disease
Lung Disease, including Asthma
Renal Disease
Weakened Immune System
If you have any of these conditions, you will need to set an appointment with your doctor or any healthcare provider so you can thoroughly discuss the recommended vaccines for your situation. Talking with your doctor can guarantee that you are taking the right vaccine for your age and condition.