Your wedding day is probably the most memorable day of your life, but it can also be the most stressful. All the planning leading up to that special day can be incredibly taxing. Take the edge off yourself and your spouse a little bit by relying on this helpful wedding checklist to guide you through the process.
One year or more before your wedding day…
Decide on your wedding day
Start planning your wedding at least twelve months before to get the best venues and suppliers you want at the best prices. Once you've decided on the official date, you can send out save-the-date cards to your friends and family so they have ample time to make arrangements.
Prepare a budget
Sit down with your partner and discuss how much you can afford to spend on your wedding. Make sure that it's a realistic budget that won't put you into debt, but is also enough to cover any contingencies.
Draft your guest list
The ideal guest list is one that has an equal number of members from both sides of the family. When planning your budget, you should factor in how many people you're inviting as well as their plus ones.
Reserve your venues
The venues you'll need to book for your wedding day include a church (or a licensed civil wedding venue) and a reception area. When booking a location for your evening reception, you can look into party venues in Salt Lake City. Don't forget to account for indoor and outdoor settings, room rental costs, and seating capacity.
Assign your bridesmaids, best man, and ushers
Make sure to choose your closest friends and family who are easily accessible to you, dependable, and trustworthy.
Book your wedding vendors
Here's a short list of common wedding vendors every wedding needs:
Photographer and videographer
DJ/band/host
Minister/registrar
Catering
Florist
Toastmaster
Plan your honeymoon
Whether you're going to a local spot or having an adventure abroad, now's the time to book that dream destination you and your partner have always wanted to go to.
6 months left before your wedding day…
Design your wedding stationery
Hire a graphic designer to help you design your wedding stationery which includes your wedding invitations, place cards, and thank you cards.
Choose your wedding cake
Start doing cake testings to figure out what flavor, texture, and style you want your wedding cake to be.
Start fitting your wedding dress and purchase your accessories
Begin trying on and narrowing down your wedding dress choices. Purchase a good pair of shoes, as well as accessories like your veil, tiara, and jewelry. It's at this point that you should also buy your bridesmaids' dresses and suits for the groom, best men, and ushers.
Hire your make up artist and hairdresser
Consult with several different makeup artists and hairdressers, as well as book hair and makeup trials to see find the ones that are right for you.
3 months to a week before the wedding…
Now's the time to start finalizing everything. Here's what you should get done at this point:
Arrange for the final alterations and fitting of your wedding dress
Send out your wedding invitations
Reconfirm wedding reservations with your wedding suppliers
Finalize your reception seating plan
Arrange and have the wedding rehearsal
Write your wedding speeches
Pack for your honeymoon
On your wedding day…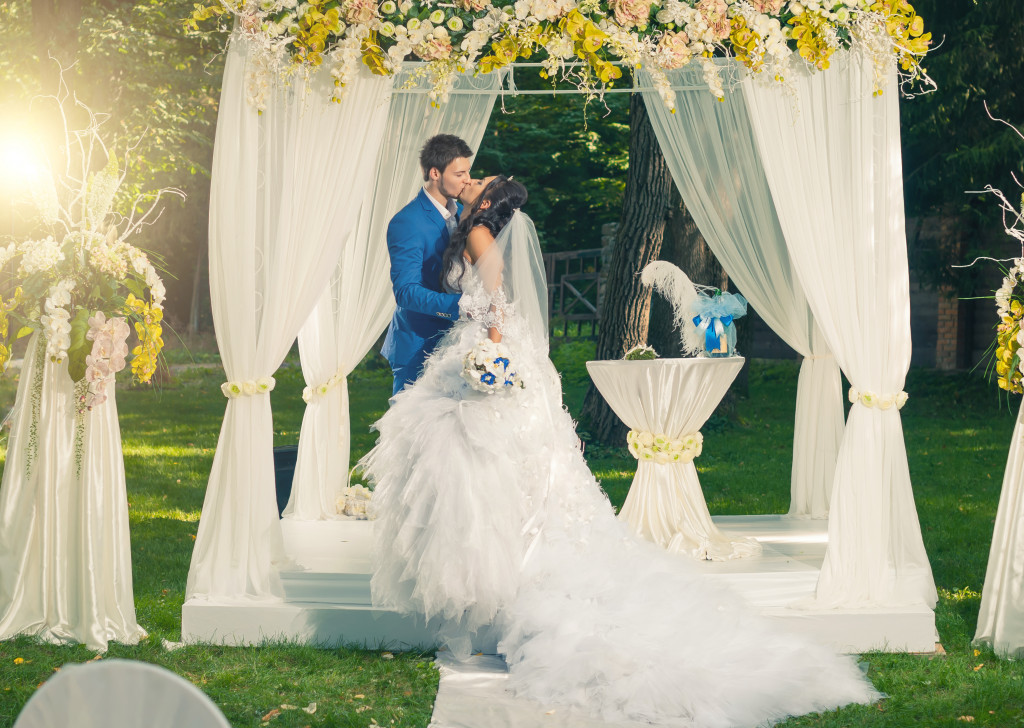 Time to relax
All your planning has brought you to this day. Try to take as much time off to relax and be with yourself. Don't stress yourself out. The end of your wedding planning is the beginning of a happy marriage.