The exhilaration of skiing down a slope is indescribable, and most people that try it once are hooked for a lifetime. However, that exhilaration can easily turn to fear and disappointment if you meet an accident and get sidelined for the rest of your trip. Safety on the slopes is crucial, especially if you want to have as many runs as you can.
Wear Appropriate Clothing
Although you've probably seen people on TV or the internet skiing down the slopes in their shorts or bikinis (maybe even in the buff), appropriate clothing is essential on the slopes. Warm clothing prevents you from freezing yourself silly from the cold and burning yourself red from the sun. Start with some long-sleeved tops and long (thermal) underwear.
A windbreaker or ordinary jacket paired with track pants should be fine for your first few forays. You can buy those classy men's (or women's) Bogner ski jackets once you decide to continue skiing and make your way to those double diamonds. You'll also need ski gloves, sunglasses, and something woolen or cotton to keep your head warm.
Remember that you're not just dressing warm to protect yourself from the cold. Any of your exposed body parts will be bombarded with ultraviolet radiation, and you might go home with severe sunburns.
Use Protective Gear
She snow might seem soft and fluffy, but hitting it at high speeds can lead to serious injuries, particularly head injuries. One in five skiing accidents leads to head injuries. A skiing helmet is not for show, so better get one before you hit the slopes.
Most skiing establishments will have protective gear available for rent, including vests, wrist guards, and various padding for your elbows, knees, and shins. Ski goggles may not fit if you have a light or heavy physique, so consider purchasing your own to ensure a tight fit. You'll want boots that fit perfectly or close to them. The right boots can give you higher control and maneuverability, allowing you to control your skis to avoid obstacles and other skiers. It might be fine to rent on your first few trips, but try to get at least your own set of boots to ensure maximum fun and safety.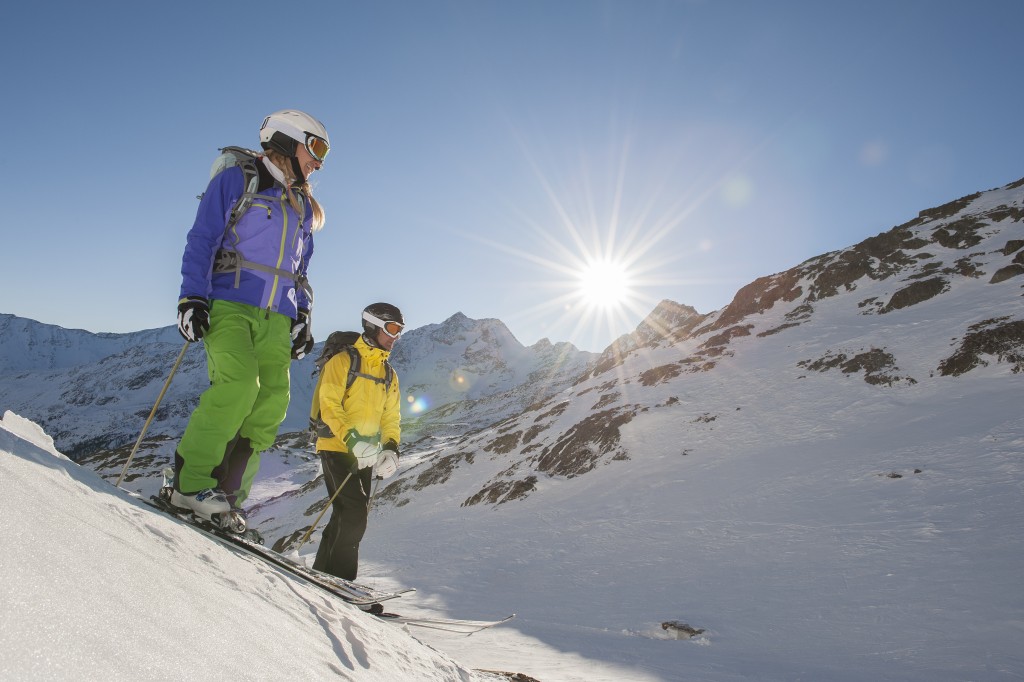 Keep to Your Lane
Keep to your colors, and don't venture into the blue squares or black diamonds when you're just starting. It's okay to start from the bottom, especially when overreaching can lead to spills and injuries. Stick to your marked slopes, and don't even try to cross the markers. Piste markers are there for a reason. Formula 1's most famous driver, Michael Schumacher, got into a skiing accident in 2013. He went off-piste (off the designated slopes) and hit his head on a rock. He remains in a vegetative state as of today.
Staying on the green slopes can make you a lot safer. However, you can still get into accidents and collisions if you ski like a madman. Stick to a steady pace and don't try to race other skiers. Enjoy your time at the slopes and try out for the Olympics once you get to the blues.
Know Your Physical Limits
Skiing can be grueling. The adrenaline rush might prevent you from feeling tired, but you can easily wear yourself out with just a few short runs. Take regular breaks and try to consciously drink fluids to avoid dehydration. High altitude can suppress feelings of thirst, and just breathing the dry air can make your body lose significant amounts of moisture. Long slopes can be difficult if you aren't fit. 5-mile slopes can take around 15 to 30 minutes to finish. You'll need a bit of endurance and muscle strength to finish long runs without leaving you sore and shaking. Do a bit of cardio a few weeks before your ski trip to build endurance. You'll also need a lot of core strength, so don't miss out on sit-ups and planks.
Partner Up
Skiing is more fun with a buddy. Of course, the two of you would be taking turns instead of racing down the slopes side-by-side. A couple of hand-held radios should be enough to confirm a successful run or to warn of potential hazards that you've encountered. Even without a radio, a partner can confirm whether you got to your destination safely.
Skiing is a fun and challenging activity, and with the right preparations and the proper mindset, it can be one of the safest. Head to the slopes with safety in mind and make your ski trips more memorable.