Invest in a quality sunscreen spray to protect your hair from the sun and lock in moisture.
Avoid heat styling and opt for natural styles to keep your hair looking great.
Wear a hat with a wide brim to protect your scalp and hair, and pack the right hair care products for your destination.
Drink plenty of water to keep your body and hair hydrated.
Use protective styles to reduce the amount of exposure to chlorine and saltwater.
Summer is the season for beach trips, pool parties, and outdoor adventures. However, while everyone loves spending time outdoors with loved ones, the sun and heat can take a toll on your hair. It's easy to forget to take care of your locks and safeguard them against damage while you're on vacation mode, but it's crucial to care for your crowning glory if you want to keep it healthy and beautiful. Here are some tips to avoid hair damage while traveling this summer.
1. Invest in a Quality Sunscreen Spray for Your Hair
People often prioritize sunscreen for the skin but forget the importance of doing the same for the hair. Sun damage can cause dry scalp, hair breakage, and color fading, which can be hard to repair. Investing in a quality hair sunscreen spray can easily protect your hair while lounging under the sun. The spray can also help to lock in moisture and keep your locks looking beautiful.
When selecting a sunscreen spray for your hair, look for ingredients such as coconut oil, aloe vera, or vitamin E. These ingredients can help to keep your locks moisturized while providing essential protection from the sun's harmful rays. If you're planning to be out in the water, pick a spray specifically designed for "water-resistant" protection.
2. Avoid Too Much Heat Styling
Does heat styling cause hair loss and unnecessary damage? The answer is yes. Heat can damage your hair, leading to dryness, split ends, frizziness, breakage, and even hair loss. Avoid any unnecessary heat styling of your hair while on vacation, and opt for natural styles to keep your hair healthy and looking great.
If you must heat style your locks, use a thermal protectant product to minimize the damage caused by heat styling tools. Additionally, reduce the temperature of styling tools to the lowest setting that will still achieve your desired look. But it's better to let it down, air dry, and go for a natural look.
3. Don't Forget to Wear a Hat
Wearing a hat is not only an effortless way to protect your face and scalp from the sun, but it can also protect your hair. It will offer shade, reduce sunburn risk, and keep your hair from becoming too dry, brittle, or damaged. Choose a hat with a wide brim to protect your hair and your face and body from the sun's harmful rays.
4. Pack the Right Hair Care Products
Different hair care products cater to unique hair types. Before your trip, pack the right hair care products for your destination and hair type. Carry your favorite shampoo and conditioner, a leave-in conditioner, and a serum to keep your hair nourished and moisturized throughout your trip. Use a microfiber towel or turbie twist to keep your hair healthy and avoid breakage. Many of these items are lightweight and easy to carry in your beach bag or suitcase.
5. Drink Plenty of Water
Staying hydrated is essential during any season, especially during the summer. Drinking plenty of water keeps your body hydrated and helps keep your hair healthy and moisturized, ensuring that your hair stays soft and damage-free. Eating healthy foods such as fruits and vegetables can keep your hair shiny and strong and your scalp healthy. Avoid foods that are overly processed and high in sugar, as this can lead to dull and dry hair.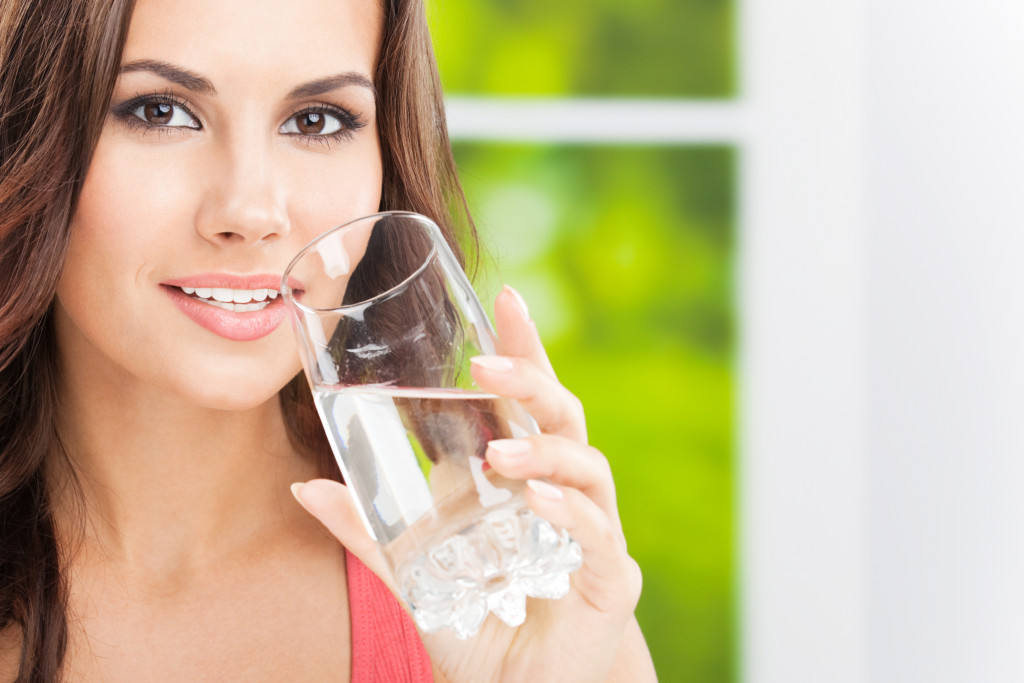 6. Use Protective Styles
Summer is the perfect time to experiment with different hairstyles that offer protection for your hair. Here are some protective styles to try:
a. Braids
French and Dutch braids are one of the best protective styles for the summertime. They keep your hair away from your face and neck area while also protecting your strands from chlorine, saltwater, and sun damage.
b. Buns
When your hair is up in a bun, it's away from the sun and other environmental elements. Opt for low buns or twists to keep your hair off your neck and face.
c. Twists
If you don't want to braid or put your hair up in a bun, twists can be a great protective style. They're easy to put in and manage, and you can wear them for days at a time without having to worry about any hair damage.
d. Scarves and Head Wraps
Scarves and head wraps can be a great way to protect your hair from the sun while also adding a fashionable touch to any look. Wrapping a scarf around your head is an easy and stylish way to protect your locks from the sun while keeping them looking chic.
Traveling during summer can be a lot of fun, but it's essential to take care of your hair when doing so. The sun, ocean water, and chlorine can take a toll on your locks, but following these tips can help protect your hair and keep it looking its best. Remember to stay hydrated, wear protective hats and styles, and invest in quality hair care products to prevent damage and ensure a healthy mane all summer long. With proper care, your hair can look and feel beautiful all season long.